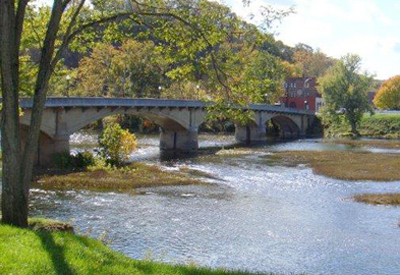 Alderson Memorial Pedestrian Bridge
Rt. 12 and Monroe Ave.
Alderson, WV
History Stop
One of the best views of the Greenbrier River can be seen from Alderson's Memorial Bridge. Today the bridge is only open to pedestrian traffic and the occasional parade and community gathering. Since Alderson exists on two sides of the Greenbrier River, including shopping and other attractions, it's a relaxing way to tour the town and enjoy the scenic view along the river.  
The bridge was completed in 1914 and connects the counties of Greenbrier and Monroe. It is the only concrete arch bridge in West Virginia and is listed on the National Register of Historic Places. As you stroll the bridge, you're walking directly over a part of the river where John Marshall, the first Chief Justice of the Supreme Court, floated through in 1812 as he led a 250-mile expedition in a bateau to investigate the potential of a canal system for shipping cargo.
More Info
This "history stop" was researched and written by Belinda Anderson. A series of history booklets commissioned by Alderson Main Street and written by Anderson is available for sale. More information is available by calling (304) 445-2916.